The history of GOYA® begins in 1936, the year the company was founded in Manhattan (New York) by Prudencio Unanue, who, together with his wife Carolina, left Spain for Puerto Rico, their first stop on their way towards the American dream.
Convinced of the existence of a growing market for quality Hispanic food, little by little, the Unanue family began to supply food to local Hispanic families, bringing a variety of Spanish products to their tables, including table olives, olive oil and sardines.
The development of GOYA® to the present day has had various business milestones: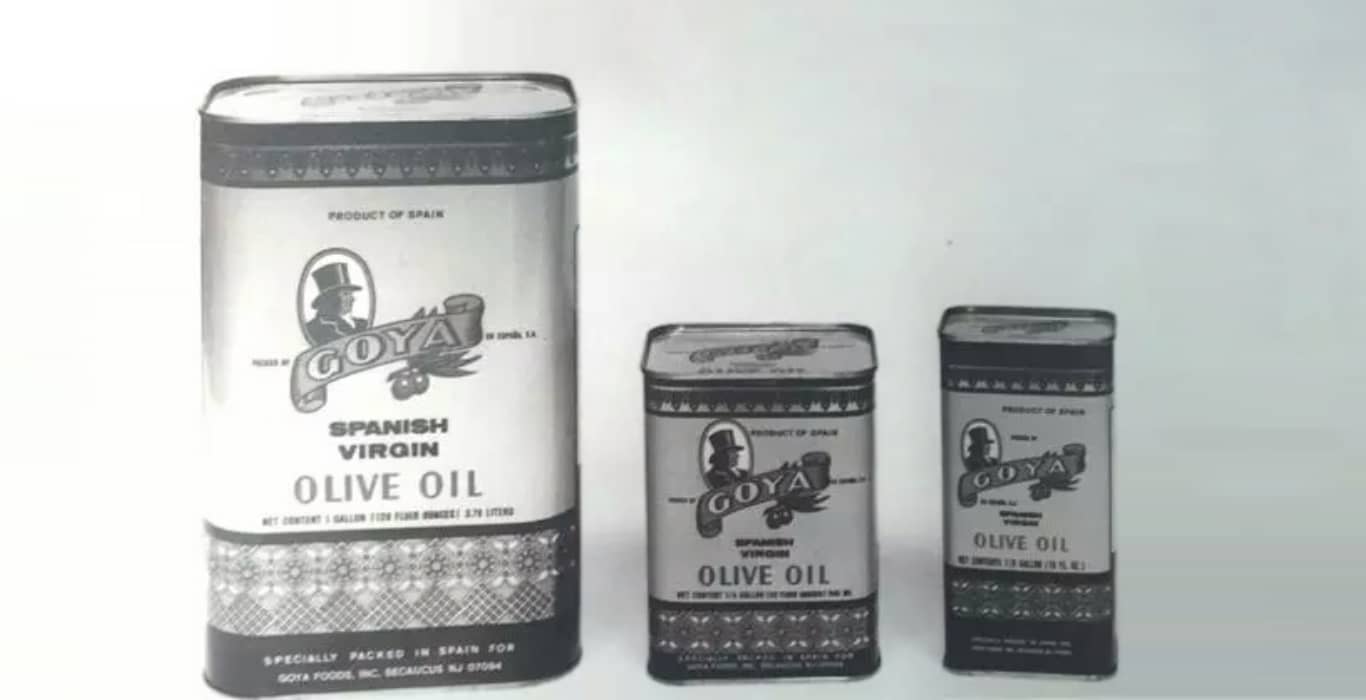 1949
The Unanue family acquires a small processing and packaging factory in San Juan de Puerto Rico (in the Río Piedras area) for pigeon peas destined for the United States. In 1951, two years later, GOYA® began to sell its products in Puerto Rico as Goya Puerto Rico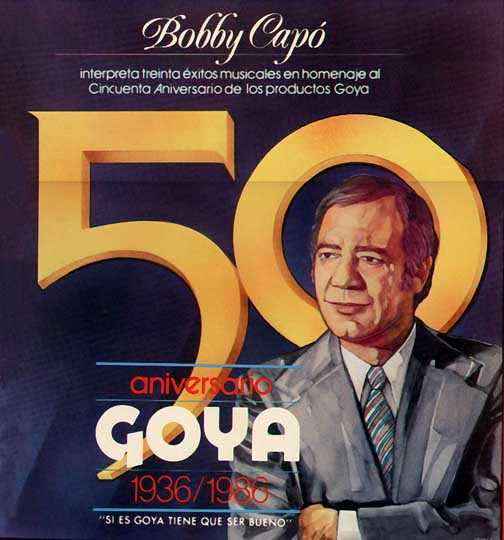 1950
The company grew, and in 1953, due to increased sales and the need to expand its production, GOYA® acquired new land in the municipality of Bayamón. In 1957, four years later, GOYA® grew and received authorization from the United States Department of Agriculture (USDA) for processing meat. This allowed the expansion of packaged string beans and kidney beans to include other typical Puerto Rican foods such as tripe, meat stew, and various pies.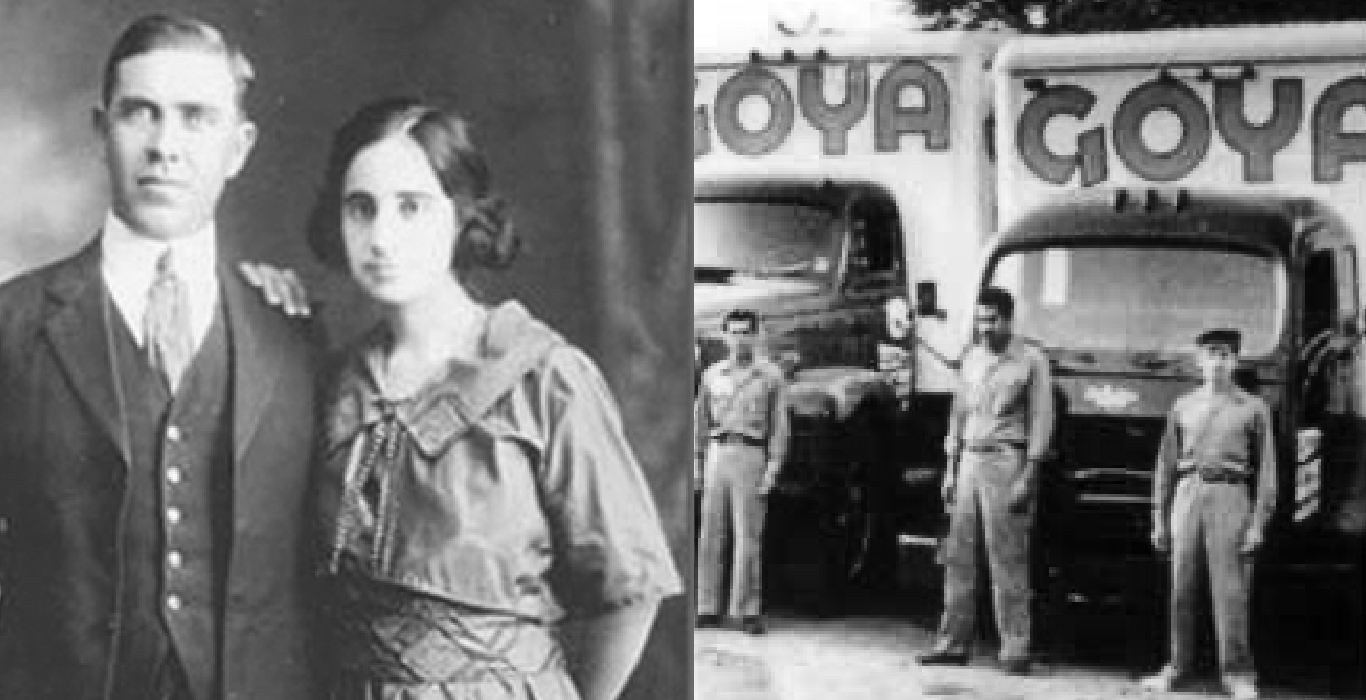 1960
In the 1960s, GOYA® expanded its facilities and began production of its tomato sauce and tropical nectars in Puerto Rico for the first time. In 1966, it began producing the GOYA® marinade and other spices that were very well received by consumers from Puerto Rico and the United States.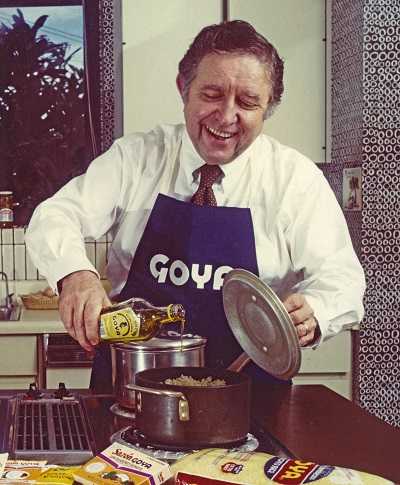 1971
In 1971, the group established Goya Santo Domingo in the Dominican Republic. This subsidiary specialized in the planting and processing of pigeon peas and tropical fruits focused on the production of GOYA® coconut milk, coconut cream, and fruit pulp, juice, and nectars.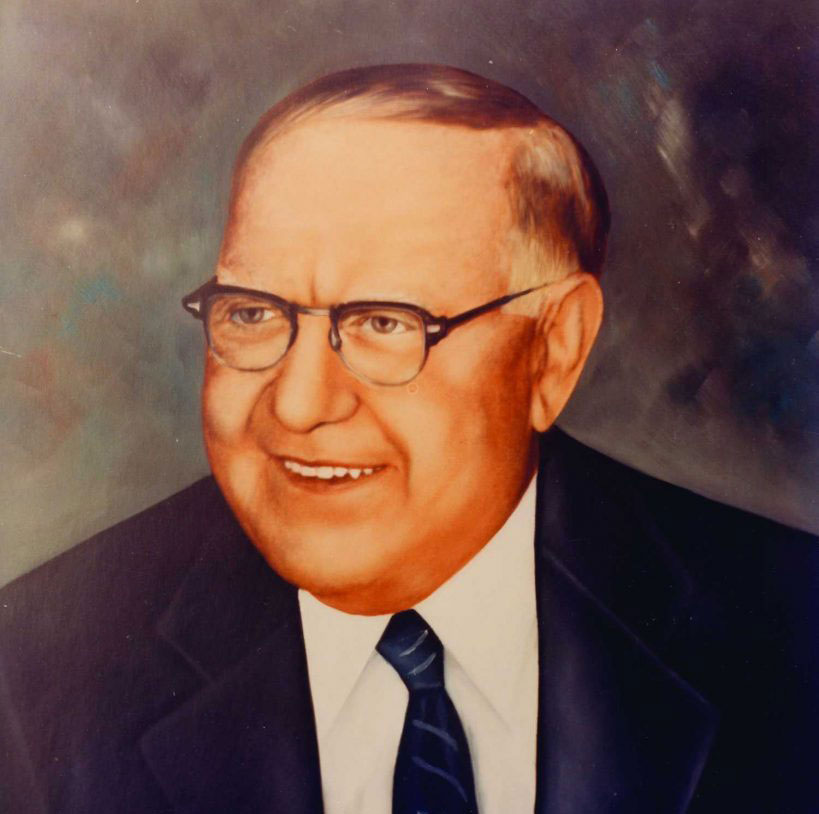 1974
Goya Spain began its operations. Initially, its facilities in Alcalá de Guadaíra (Seville) comprised an olive oil and olive processing and packaging plant for export to the United States. Thanks to the creation of this plant, control and mastery over the oil and olive supply chain and its quality were acquired. This was the reason for the creation of Goya Spain.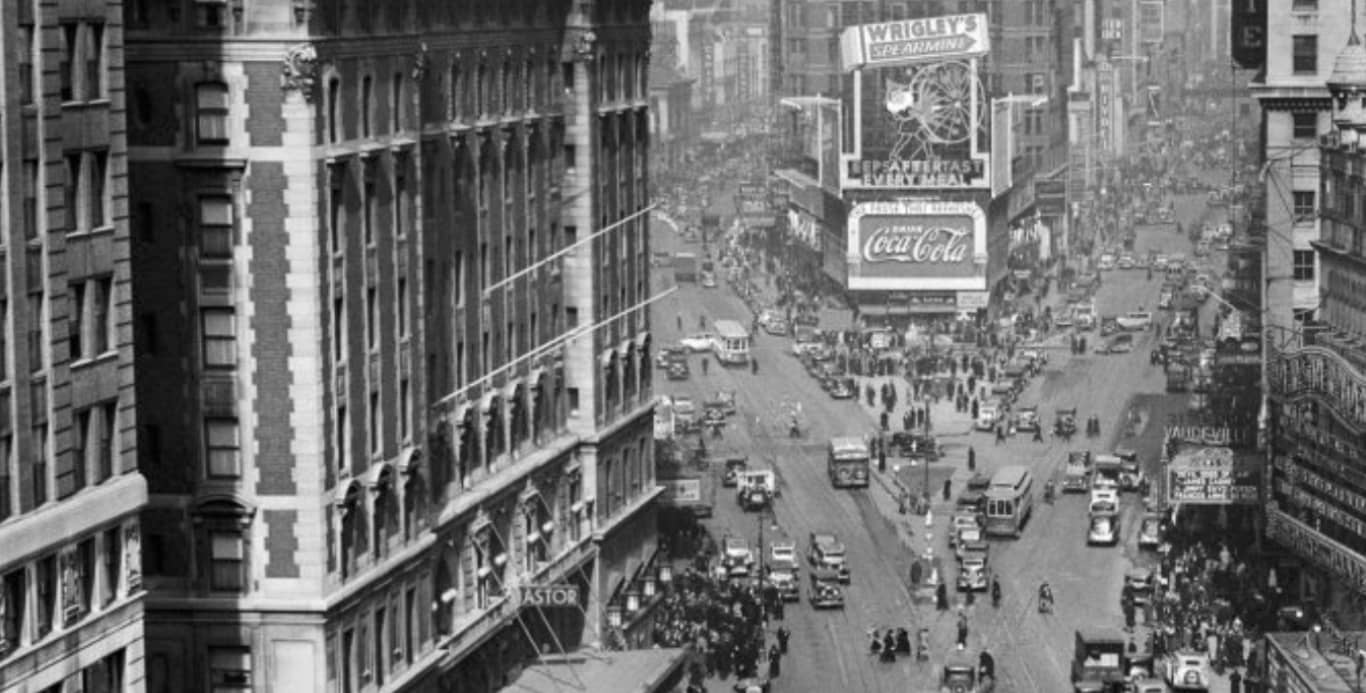 1976
Goya Puerto Rico constructed its Island Can Corp and Tradewind Foods canning factories for packaging spices. Island Can Corp gradually expanded its canning production lines, with a total of three in 1983. The packaging production line has grown to the present day with the acquisition of different factories, which have allowed greater specialization in cannery, bottles, and containers.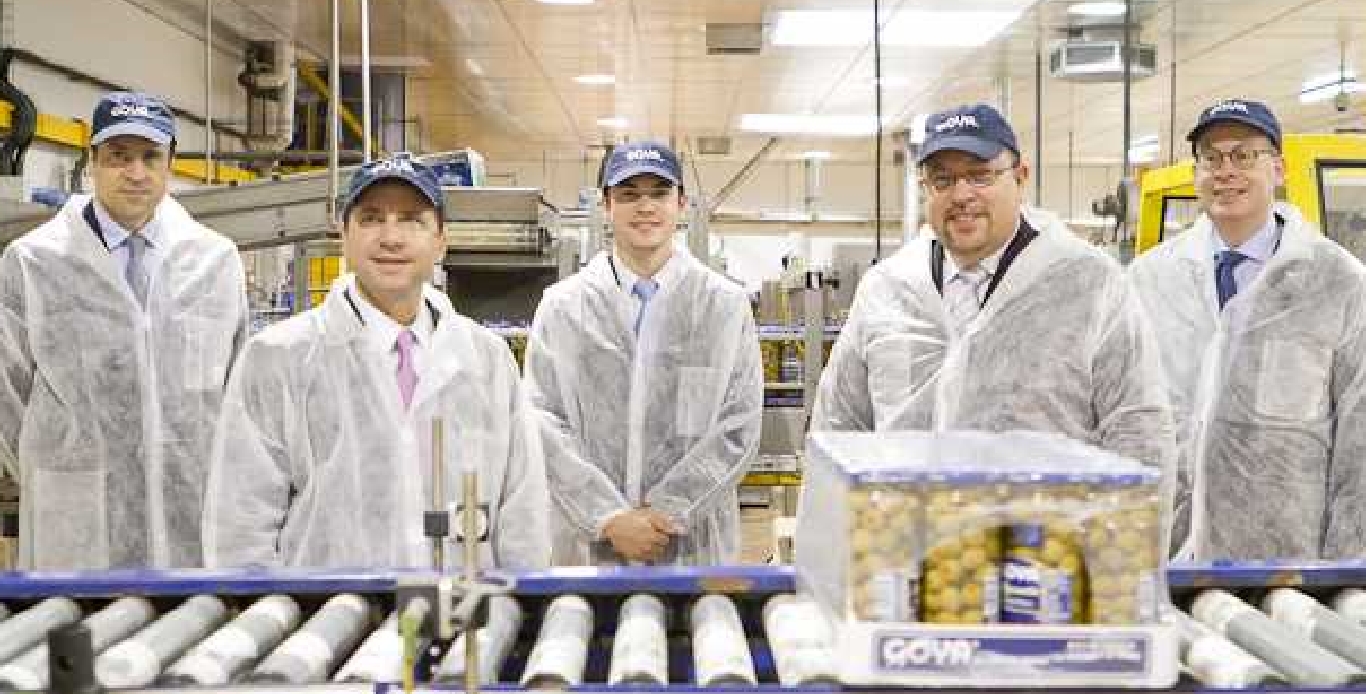 1980
In the 1980s, GOYA® acquired the Rico Banana Corporation and its Carro brand, in 1993 acquiring Casera Foods, Inc., a subsidiary of Campbell's Soup Company.
Its constant growth has led Goya Puerto Rico to become the largest manufacturing plant in Latin America and the Caribbean. With over 600 employees, its facilities produce and package several of the most famous GOYA® products such as juices and nectars, tomato sauce, marinade, string beans, sofrito, and spices. With a global presence in over 20 countries, Goya products are firmly established in the United States.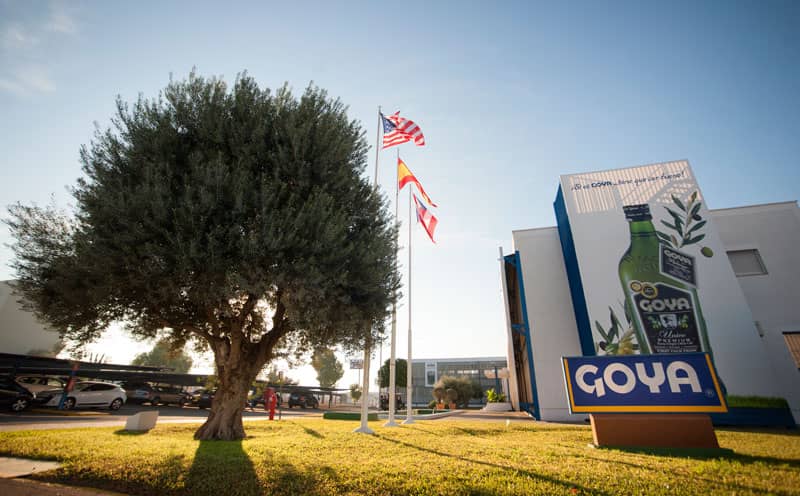 1985
In 1985, we grew with the construction of a factory for the treatment of olives. We expanded its equipment for processing and filling of olives compared to its original facilities.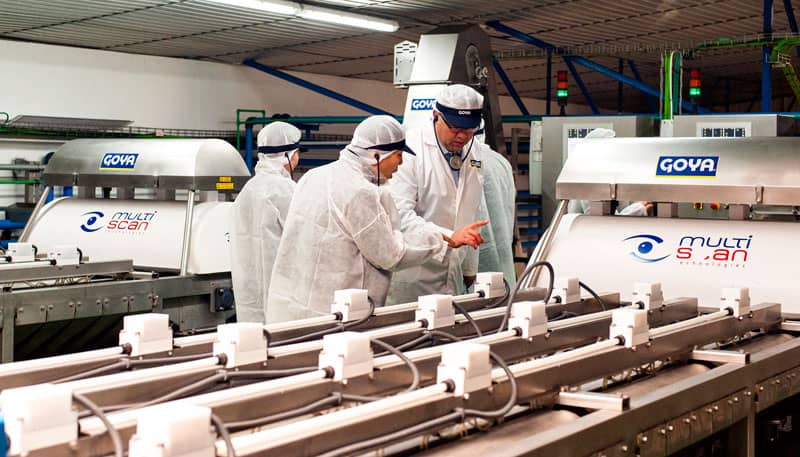 1998
Since 1998 we have already had a modern and sophisticated industrial complex, specializing in the production and packaging of olives and olive oil. Thus, all international operations are coordinated from the Goya Spain Factory. Our activity is 100% exporting, with a balanced export volume of 4 million kilos of olives and capers per year and the same figure for olive oil.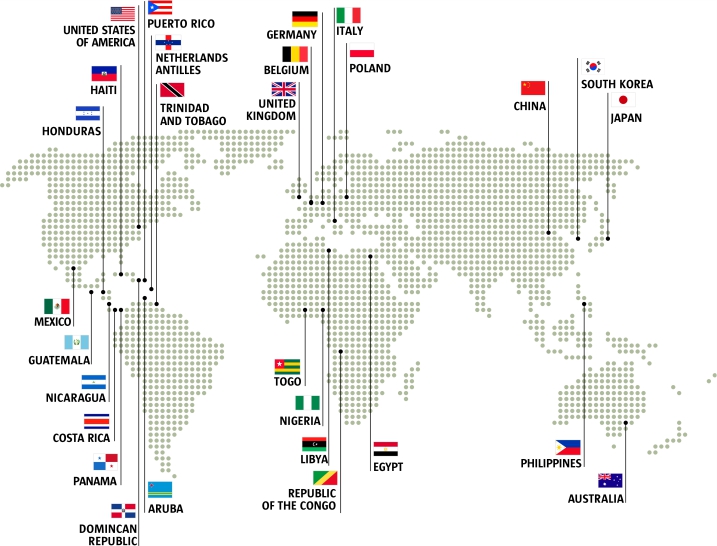 Late 90's
At the end of the 90s, we began a successful export trajectory taking its first steps in Nigeria, Poland, and Libya, becoming a leader. Today, we reach more than 20 markets.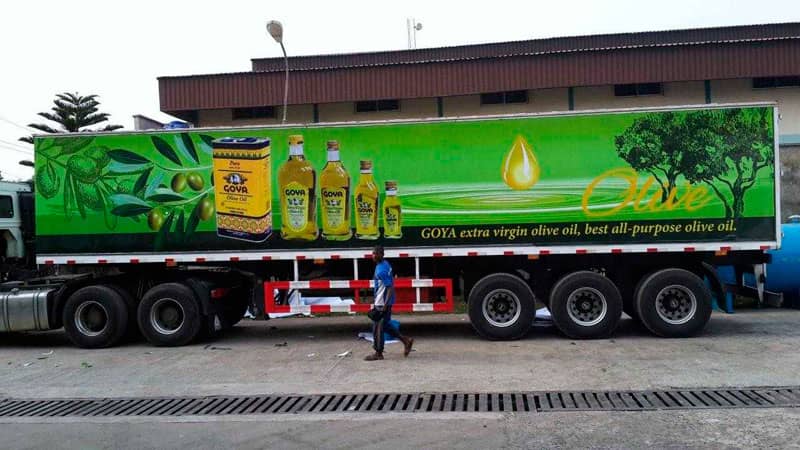 2011
In 2011 we started an ambitious business plan with the primary objective of structuring and consolidating our international expansion. We decided to go back to our origins, with olive oil and olives, just as Don Prudencio Unanue did when he founded GOYA®. Thus, we defined five priority markets: China, Japan, Mexico, Brazil, and Australia, which would serve as a strategic support point for our expansion strategy and global coverage, and which would join the reference markets in North America, Central America, Europe, and Africa, with Nigeria.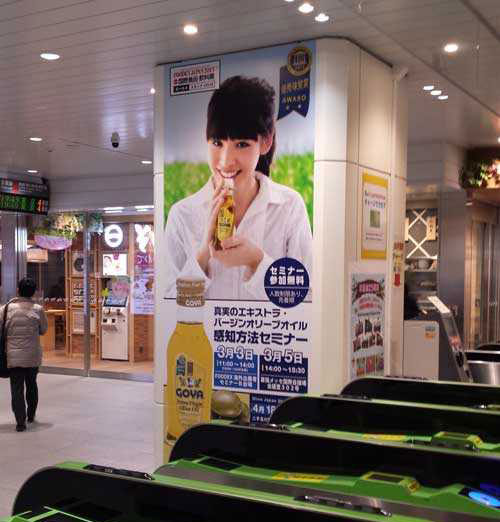 2012
We arrived in Japan in 2012 at-hand of Imai Limited. During this time, we have positioned ourselves as a benchmark in the Japanese market. Today, our olives and oils are present in the leading retail stores, and we have reached a market share of 20% of Spanish olive exports to Japan. In China, on the other hand, we have an annual import of more than 36 million liters of olive oil, of which 90% corresponds to Extra Virgin Olive Oil. We have taken advantage of the excellent image of Spain in this market, prioritizing our action about the modern retail distribution channel, on which the brand is built. Today, as a result of our work, we are in important Chinese distribution chains.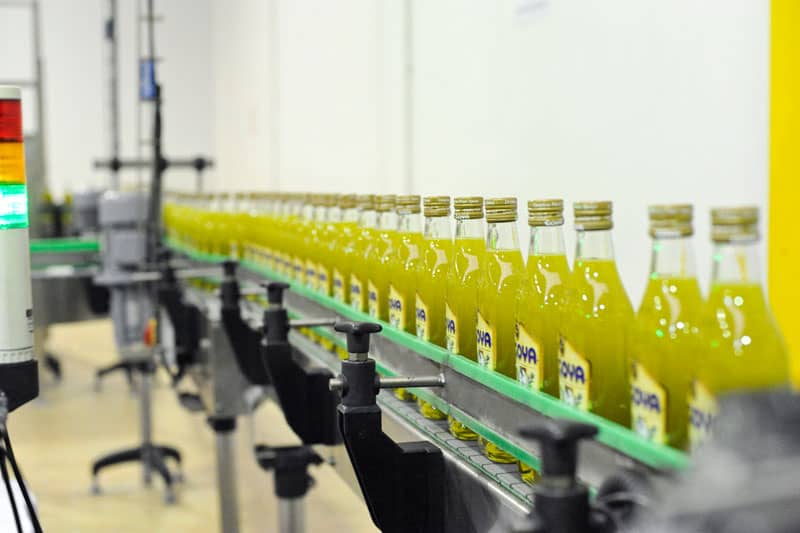 2015
In 2015 we made several investments in R + D +I, with the fundamental objective of increasing production and bringing the latest technological advances into effect. In this way, 2015-2016 meant implementing three crucial improvements in our 2-in-1 Factory, specializing in both the production of olives and olive oil. Furthermore, we culminated this incredible year with the launch of a new format of Olive Oil. We redesigned and expanded our line of GOYA® Black Olives in cans, improving the production method of the "Californian Style" given the customary quality of our olives. Moreover, our Olive Oils acquired a new packaging design that corresponded with the launch of our 750 ml glass bottle required in the US market. This format represents 19% of sales, as well as in China, among others.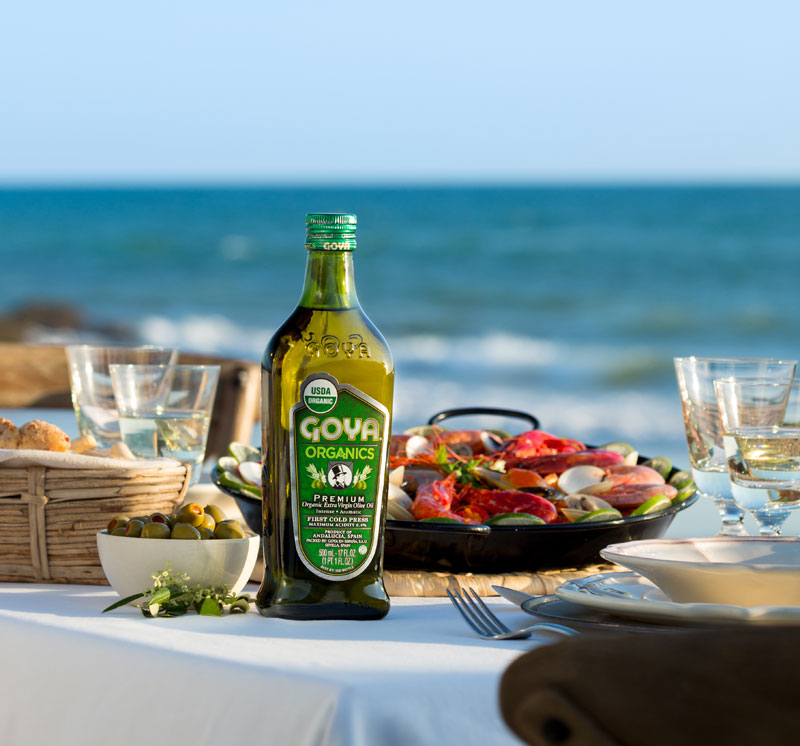 2016
In 2016 we expanded the range of Goya products with new lines of Vinegar (in its three varieties: Balsámico, from Jerez to Pedro Ximénez, and from Jerez Reserva to Pedro Ximénez), and Gazpacho.

This same year, we launched a line of GOYA® Organics organic products with the arrival of our GOYA® Organics Extra Virgin Olive Oil, which ranks among the best organic olive oils in Spain and the world.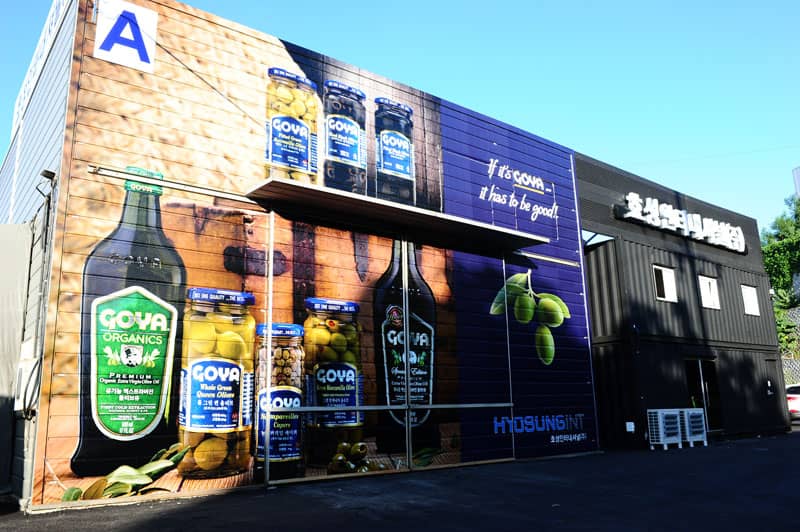 2017
This year, we reinforced our presence in
traditional European (Poland) and eastern (China and Japan) markets
. Similarly, within our commercial expansion policy, 2017 is characterized by the entry into the
South Korean and Australian markets
.
In 2017 we launched a new specialty for our stuffed olives:
GOYA
®
Olives stuffed with blue cheese
, added to the already available specialties of
salmon, tuna, anchovies, and hot peppers
.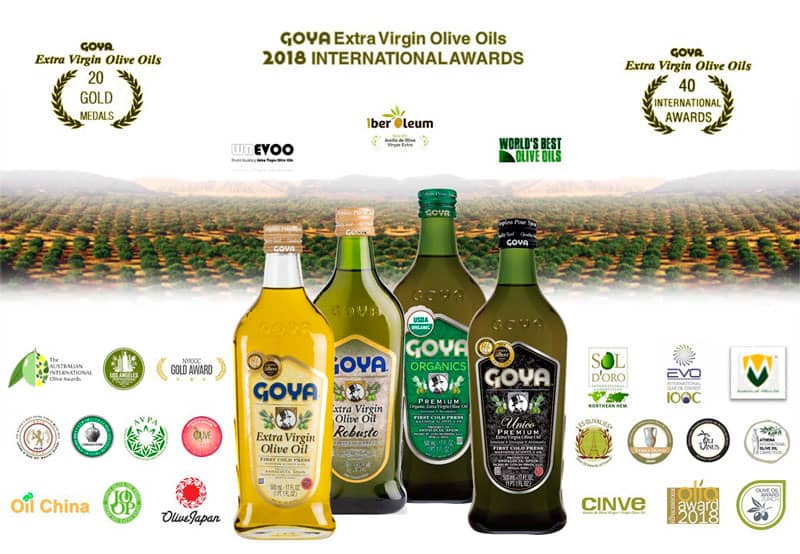 2018
In 2018, our EVOOs achieved over 40 international awards in countries like the USA, Spain, Italy, France, Greece, Germany, Japan, China, Israel, Canada, Australia, and Argentina. Thanks to these recognitions, the World's Best Olive Oils Ranking placed our olive oils for the first time among the 20 best in the world. And we managed to consolidate ourselves in the Top 10 as one of the best olive oil companies in the world. This same year, we reinforced our presence in South Korea with the help of our distributor Hyosungint. We continued with the market expansion strategy to explore markets in Southeast Asia, particularly the Philippine market.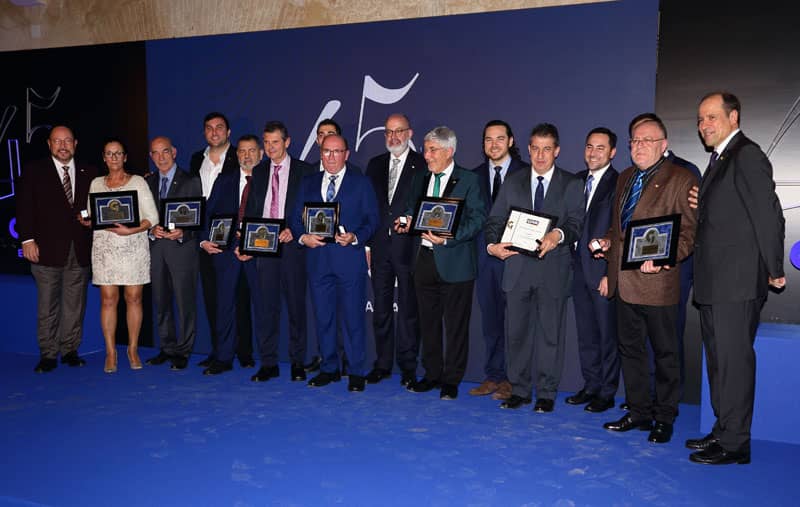 2019
In 2019 we celebrated 45 years as part of the great Goya family. Furthermore, it was the year of the international consolidation of our olive oils. Thus, the IberOleum Guide recognized our GOYA® Organics Extra Virgin Olive Oil as the best coupage (blend) in Spain for the second consecutive year. At the same time, the International Olive Council awarded the second Mario Solinas prize (the most important prize worldwide) in the category "Medium fruity" to GOYA® Unico Extra Virgin Olive Oil. Along with these recognitions, the international awards exceeded one hundred accolades.

In 2019 we also added new references to the Goya product portfolio. We took a step further in our fillings specialties in olives, with three traditional flavors: Manchego cheese, spicy chorizo , and Serrano ham. The extra virgin olive oils line has two new oils, GOYA® Robusto Extra Virgin Olive Oil and GOYA® Garlic Extra Virgin Oil. However, the presence of Robusto in the Japanese market occurred a year earlier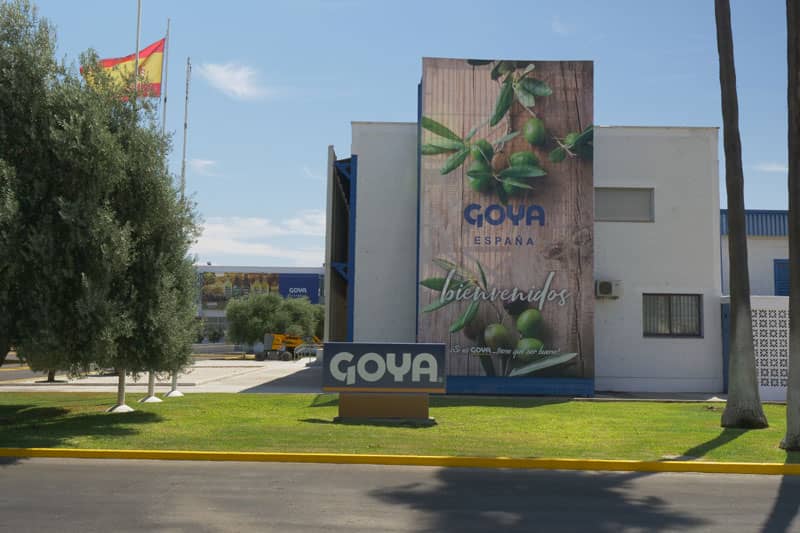 2020
In recent years, the facilities and machinery of our Factory have undergone a constant change and renewal process with a single primary objective: to achieve quality production with the highest efficiency and safety conditions.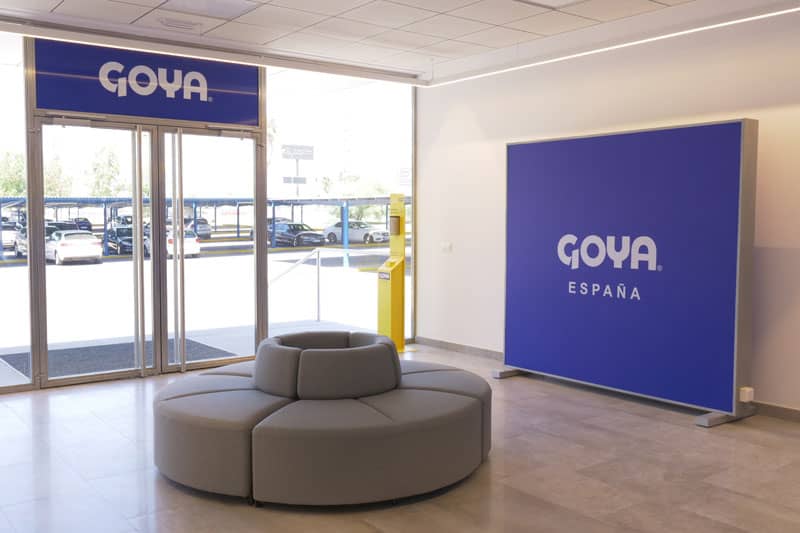 2021
Similarly, throughout 2021 we have continued to undertake improvements in the facilities to guarantee the highest quality of our products. This year, we also expanded our organic line with olives and capers. We launched the organic range with manzanilla olives, cocktail olives and Capote and Nonpareilles capers.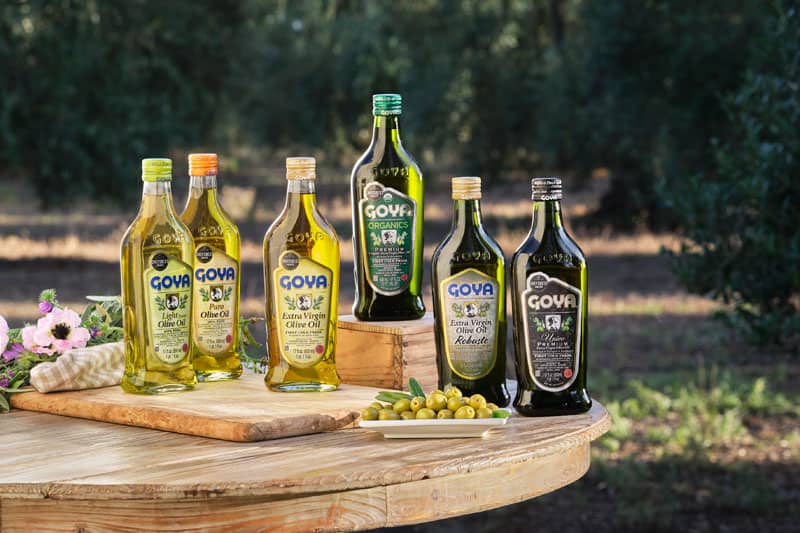 Present Day
We are present in the five continents with thirty superior quality products endorsed by more than 200 international awards. At Goya España, we will continue to work, day by day, to bring to the homes of good food lovers one of the best EVOOs in the world.